LIFE AFTER
Combining Digital and Physical Media to Create a Sensory Experience About Cyclic Existence and the Dynamic Underworld
Overview
What is the experience of decomposing underground? And will we emerge in a life after death? These are the questions we decided to explore in this installation. We envisioned an environment that utilized sound, texture, and striking visuals to imagine something no one had experienced before - the transfer of energy that goes on between mushrooms, roots, bugs and crystals underneath the earth. The new life that comes from death is something we found equally strange and beautiful.
The event lasted only one night for 3 hours and was experienced by 146 guests.
ROLE
Co-Producer
TEAM
Anum Awan (Co-Producer)
Fozool (Sound)
DURATION
8 weeks
SKILLS
Installation, Creative Coding, Experience Design, Prop-Making
TOOLS
Processing, Projection Mapping, MadMapper
After Effects, Illustrator, Laser-Cutter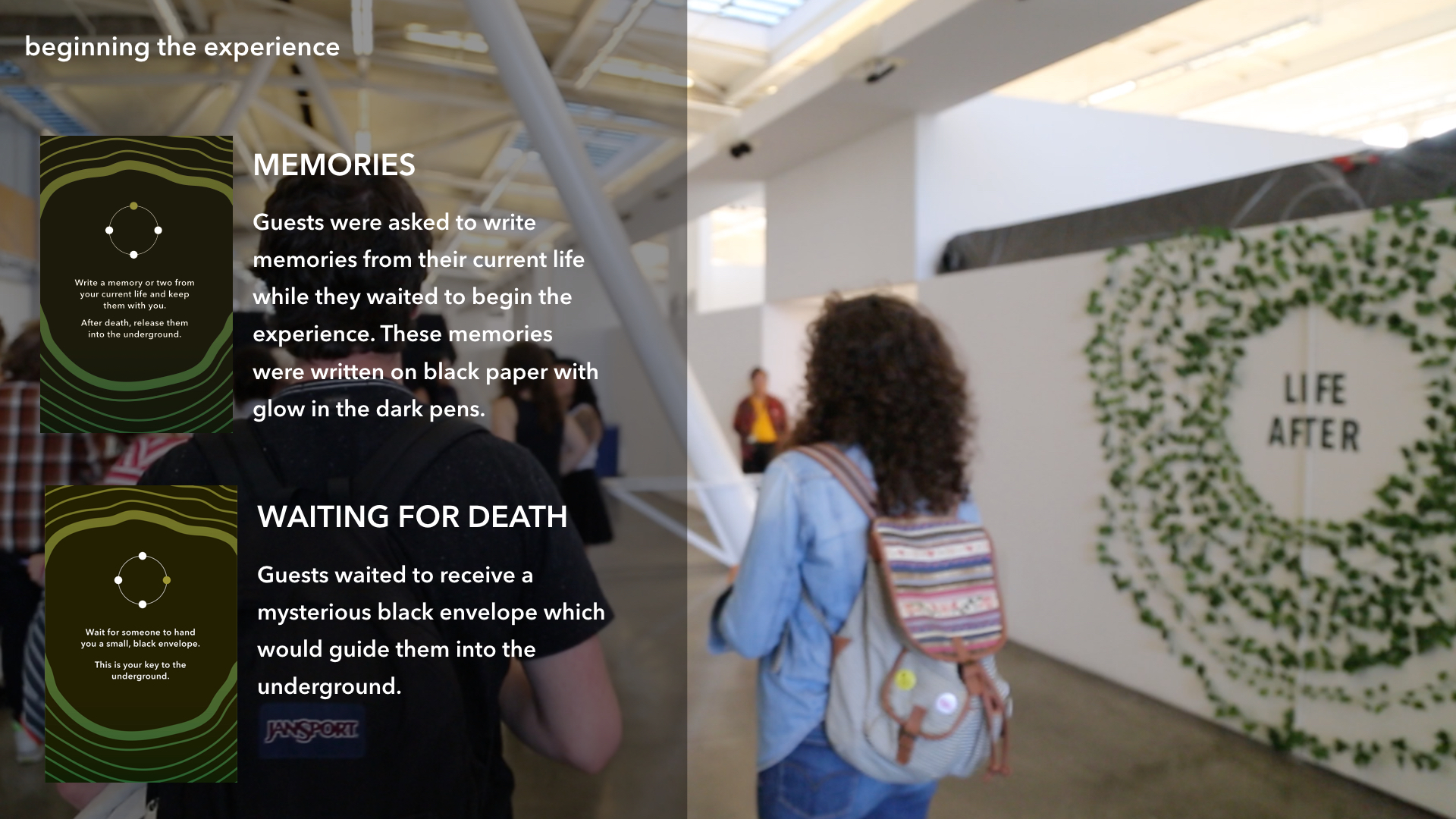 Feedback
"You created a space and story for death that's hot and warm - whereas usually death is told as a bleak, cold experience. I found this so refreshing and spirited."

- Micah, Life After participant
Key Concerns for the Next Iteration
The event was designed to run on its own without interference from the hosts; however, there were a couple flaws in our way-finding that led to some confusion. In the next event, we would be able to modify signage and layout for more clarity.
The framing of this experience as "immersive" attracted many fans of immersive theater who expected interaction with actors or hosts. We could have made our intentions more clear in the beginning through our social media outreach.
TAKEAWAY
Overall, we were happy with the story and proud of the fidelity we reached within our timeframe and with our limited resources. We took an empty, white, roofless classroom and transformed it into the dark, vibrant, world of the underground. For a few hours, our 146 guests were able to experience decomposing as a beautifully strange part of the cycle of life.
Converting the Open Space
Installing the Physical and Digital Pieces
PROCESS VIDEO COMING SOON!